Tree Nut Powder Mixin, 15 Stick Pack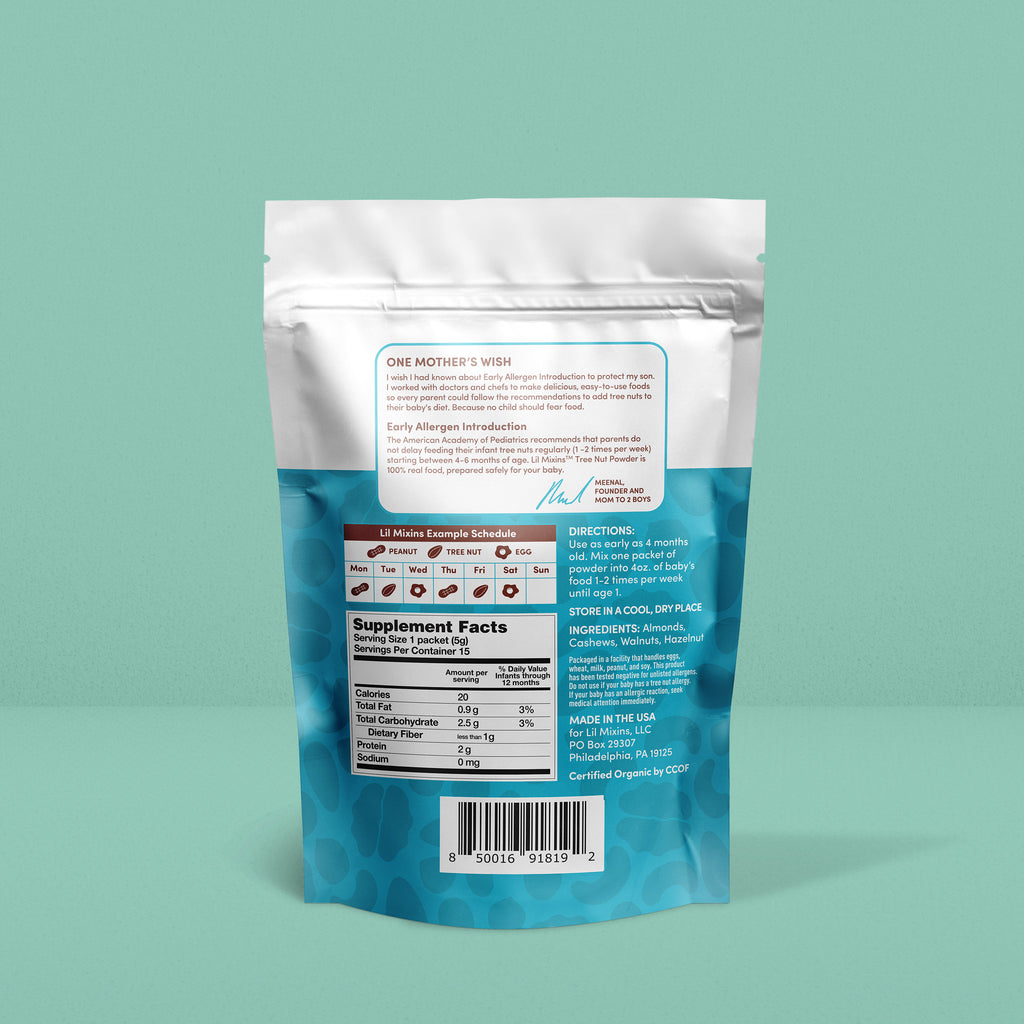 Tree Nut Powder Mixin, 15 Stick Pack
A Tree Nut Protein supplement for babies that makes it easy to follow doctor's recommendations. Add exactly 2g of tree nut protein to your baby's meals with Lil Mixins Tree Nut Powder Mixin. Made from equal parts almonds, hazelnuts, cashews, and walnuts defatted, dehydrated, and ground so it's safe for your baby.
Real Ingredients, Real Solutions
Organic Peanuts
Organic Hard-Boiled Egg
Organic Cashews
Organic Walnuts
Organic Almonds
Organic Sesame
Organic Soy
Frequently Asked Questions
What is early introduction?
Early introduction is the practice of feeding your baby the most common allergy-causing proteins like peanuts, eggs, or tree nuts regularly, as soon as they start solids, to train their body to tolerate those foods. Train tolerance and stop allergies before they start. Early introduction is NOT for babies with a known allergy to a food. Do not feed a baby food they are allergic to.
Why shouldn't I do early introduction myself?
There's nothing wrong with feeding your baby nut, egg, soy, and sesame proteins yourself as long as you 1. Start on time - between 4 and 6 months old 2. Ensure each protein is infant-safe and won't choke your baby 3. Ensure each serving has 2 grams of the protein 4. Don't quit - a baby needs weekly servings through their 1st birthday to reduce the risk of food allergy
Why just cashews, almonds, hazelnuts, and walnuts?
The proteins in some tree nuts — like walnuts and pecans — are very similar. We use cashews, almonds, hazelnuts, and walnuts in our Infant Tree Nut Powder because these four tree nuts have been shown to reduce the risk of developing all 8 tree nut allergies.
How do I use Lil Mixins Infant Powders?
Our powders make it easy to get different allergens into a baby's diet. Start as early as 4 months old. Mix 2 scoops or 1 packet into 4 oz pureed fruits, veggies, yogurt, or cereal. Serve each protein at least once a week. (If using only one protein try for twice per week.) Continue until 1 year of age. Protein servings can be split across multiple meals in a day at first if baby is eating small meals, with the goal of working up to one full protein serving in a meal.
SEE FAQ
Become an Allergy Expert
We're committed to evidence-based products with the research to prove it. Learn more about how our Daily Mix can benefit your baby.