Stop Eczema & Food Allergies Before They Start
Allergies can develop in any baby. Our science-backed and pediatrician-approved products make early allergen integration & gut health easy for parents.
The Lil Mixins System
As a parent, navigating food allergies and eczema in your baby can be stressful. We're here for every step of the way.
3rd Trimester
For when you're pregnant
Prenatal probiotics are the new prenatal vitamin. Mom's microbiome determines a baby's microbiome at birth.
SHOP NOW
0-6 Months
For when you're feeding
Science shows that the right strains of gut bacteria in a baby's first six months can support healthy development of the skin and gut.
SHOP NOW
4+ Months
For when you're starting solids
Tackle the 7 most critical food allergens with a super easy, guided monthly system. Early integration can stop allergies before they start
SHOP NOW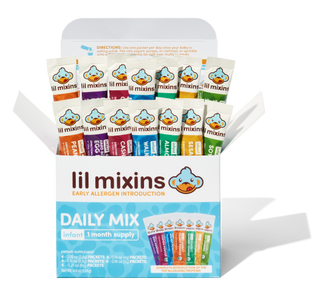 Eczema can be hard to recognize, but it's not to be taken lightly
TAKE OUR QUIZ
Our Research and Educational Guides
We're committed to evidence-based products with the research to prove it. Lil Mixins unites science and organic ingredients to give your little ones the very best start possible.

Why Parents Love Lil Mixins
"I absolutely love this product. I had a huge fear of giving the girls peanuts and this helped conquer that fear. I loved that I was in control of how much I used. I also love that it was 100% peanuts, no sugar or salt added. I feel very confident in the quality of the product! Thank you!!" – Megan
Why Parents Love Lil Mixins
"This took care of a significant concern for us - a close friend is very allergic to peanuts and I've seen the impact on her quality of life, so we want to do everything in our power to avoid that. We're pretty happy all around and would definitely recommend to other parents with allergy concerns." - Amalfi
Why Parents Love Lil Mixins
"So thankful that a product like this exists! Introducing new foods to your infant, especially those known for allergic reactions, can be stressful. But Lil Mixins Peanut Powder allowed me to introduce peanuts in a slow and safe way. Knowing that I could control the amount and that it was JUST PEANUTS put me at ease through the whole process." - Rachel