Put an End to Yeast Infections Now
Pregnancy itch, dryness, and repeated yeast infections spell trouble for mom and baby. Prenatal Probiotics can help.
Shop Now
Add the Right Bacteria
Good bacteria should take up most of the space in the gut and vagina. Our clinically proven bacteria strains support a healthy gut & vaginal microbiome
Crowd Out Bad Bacteria
Overpower the bad bacteria and yeasts that cause constipation, bloating, itchy bacterial vaginosis, and yeast infections
Create Healthy Balance in the Womb
Mom passes her microbiome to baby during birth and breastfeeding. Pass on a microbiome that protects against eczema and infections.
Rigorously Studied Bacteria: L rhamnosus HN001 + L acidophilus La-14
Lowered risk of gestational diabetes (GDM)
HN001 is associated with a lower prevelance of GDM, especially for those with a history of previous GDM.
Reduced bacterial vaginosis
La-14 and HN001 are both know to help reduce instances of bacterial vaginosis over time.
Introducing the Lil Mixins Prenatal Probiotic Capsules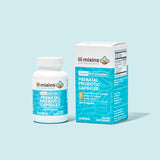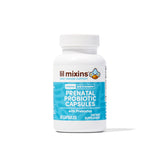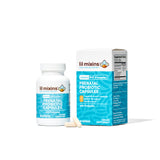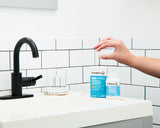 or 4 interest-free payments with Shop Pay Installments
A full trimester's worth of probiotic protection!
"I struggled with horrible itch and dryness most of my pregnancy. I can't believe how fast this helped. I love that it's protecting my baby too!" - Laura
"It felt like I had a yeast infection every month until I tried this. It's amazing to finally pee without pain" - Amanda
Get Prenatal + Free Breastfeeding Probiotic with Our Bundle
Exclusive Offer
Lil Mixins
or 4 interest-free payments with Shop Pay Installments
One month supply (30 capsules).
Prenatal Probiotics: Part of a Healthy Pregnancy
High-Fiber Diet
Healthy bacteria need to eat too! A diet rich in vegetables, fruits and whole foods is best
Prenatal Probiotic
Add good bacteria to keep mom healthy
Good Habits
Combine good gut health with good hygine to reduce the chances of infection.
1. Russo R,. Study on the effects of an oral lactobacilli and lactoferrin complex in women with intermediate vaginal microbiota. Arch Gynecol Obstet. 2018;298(1):139-145.

2. Russo R, Evidence-based mixture containing Lactobacillus strains and lactoferrin to prevent recurrent bacterial vaginosis: a double blind, placebo controlled, randomised clinical trial. Benef Microbes. 2019;10(1):19-26.

3. Russo R,. Randomised clinical trial in women with Recurrent Vulvovaginal Candidiasis; Efficacy of probiotics and lactoferrin as maintenance treatment. Mycoses.2019;62(4):328-335.