Peanut Powder Mixin, 15 Stick Pack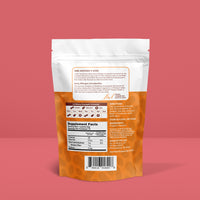 Peanut Powder Mixin, 15 Stick Pack
A Peanut Protein supplement for babies that makes it easy to follow doctor's recommendations. Add exactly 2g of peanut protein to your baby's meals with Lil Mixins Peanut Powder Mixin. Made from 100% defatted, dehydrated, and ground peanut protein so it's safe for your baby. 
Real Ingredients, Real Solutions
Organic Peanuts
Organic Hard-Boiled Egg
Organic Cashews
Organic Walnuts
Organic Almonds
Organic Sesame
Organic Soy
Frequently Asked Questions
What is early introduction?
Early introduction is the practice of feeding your baby the most common allergy-causing proteins like peanuts, eggs, or tree nuts regularly, as soon as they start solids, to train their body to tolerate those foods. Train tolerance and stop allergies before they start. Early introduction is NOT for babies with a known allergy to a food. Do not feed a baby food they are allergic to.
What do doctors say about early introduction?
Doctors agree, all parents should do early introduction to reduce the risk of food allergies. The American Association of Allergy, Asthma, and Immunology, as well as the American College of Allergy, Asthma, and Immunology created a joint recommendation in 2020: Parents should introduce peanut to all infants, starting around 6 months of age, not before 4 months, at home, after the infant has eaten one or more starter foods. Parents should introduce well-cooked egg to all infants starting around 6 months of age, not before 4 months, at home, after the infant has eaten one or more starter foods.
Isn't early introduction risky?
It is safer to start introduction earlier rather than later. Babies under one year old react with hives and vomiting if they have an allergic reaction. More severe symptoms, like throat swelling, are much more common in kids who are 2-6 years old. Early introduction reduces the risk of a more serious allergic reaction, in addition to reducing the risk of developing an allergy altogether
Does early introduction work?
Multiple, best-in-class clinical studies including the LEAP and PETIT studies consistently show that about 80% of food allergies can be avoided by early introduction.
SEE FAQ
Become an Allergy Expert
We're committed to evidence-based products with the research to prove it. Learn more about how our Daily Mix can benefit your baby.